We start the year with powerful news where we can proudly announce that we have entered a partnership with world-leading Bagela Baumaschinen GmbH & Co. A collaboration that makes us a reseller and service hub for the Scandinavian market. This makes us a partner that also handles the largest and heaviest projects with machines and tools that complement our classic portfolio of Sahlins products manufactured in Holsljunga.
Larger cable winches, drum trailers, etc.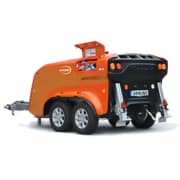 Bagela Baumaschinen GmbH & Co. offers a range that takes care of the absolute largest and heaviest projects with associated challenges with ease. More concretely, this means for us that on the machine side we e.g. offers a complete solution of cable winches up to 20 tons of traction, drum trailers up to 30 tons (even larger if necessary) and all other supporting equipment needed for successful, sustainable and cost-effective cable pulling projects.
Storage and machine service in Holsljunga
In addition to sales and project support, warehousing, machine maintenance and service are also offered locally with us in Holsljunga.
No project is too small, no project is too big
The new products in combination with our classic portfolio of in-house manufactured products make us a partner for all kinds of cable laying, regardless of scope. No project is too small, no project is too big.
Bagela Baumaschinen GmbH & Co.
Bagela is a family-owned company that has built a strong international reputation as a manufacturer of machines and tools for cable laying. The name Bagela stands for robust and proven quality, for outstanding workmanship and durability, and for the innovative and long-lasting technology that permeates the products.
The company is based in Kaltenkirchen, 40 km north of Hamburg, where it develops, designs and manufactures the machines, which are the result of enormous personal commitment and passion over the years.
See the products from Bagela
For the complete range of products, see and contact us see Bagela's website and contact us for a quote or other questions.
https://www.sahlins.com/wp-content/uploads/B-RW-10.jpg
400
400
Mikael
https://www.sahlins.com/wp-content/uploads/sahlins_start_part_of_X.png
Mikael
2023-01-11 12:44:11
2023-01-11 13:00:41
Now stronger than ever